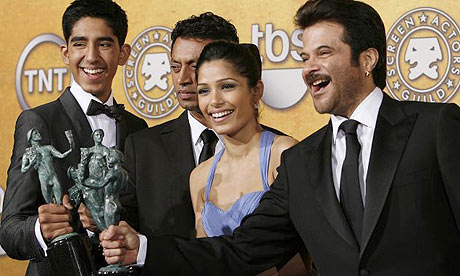 Slumdog Millionaire's Oscar momentum continued to build last night as Danny Boyle's Mumbai-set melodrama took the top prize at the Screen Actors Guild awards. Kate Winslet also added another gong to her ever-more crowded mantelpiece.
Slumdog Millionaire
Release: 2008
Country: UK
Cert (UK): 15
Runtime: 120 mins
Directors: Danny Boyle, Loveleen Tandan
Cast: Anil Kapoor, Azharudin Mohammed Ismail, Dev Patel, Freida Pinto, Irrfan Khan, Madhur Mittal, Rubina Ali
More on this film
Slumdog won the best ensemble cast prize – a rough equivalent to the best picture Oscar – at the annual ceremony, organised by the largest actors' union in the US.
Meanwhile Winslet took best supporting actress for The Reader, a repeat of one of her wins at the Golden Globes. Picking up her award, Winslet expressed delight at being honoured by her peers. "I feel a little bit like everyone should be given a medal," she said.
But the best actress award went to Meryl Streep, for her performance as a nun who suspects a charismatic priest of having an inappropriate relationship with a student in 60s America. Streep expressed surprise for her win, claiming that she "didn't even buy a dress".
Sean Penn was named best actor for his performance as Harvey Milk, the first openly gay politician elected to public office in Gus van Sant's biopic, while Heath Ledger posthumously claimed best supporting actor award for his performance as the Joker in The Dark Knight. His co-star Gary Oldman accepted the award on his behalf, describing him as "an extraordinary young man with an extraordinary talent".
Slumdog Millionaire's award was picked up by Indian actor Anil Kapoor, who played the creepy quizshow host, who dedicated it to the film's child stars. "They deserve this award. They set our performances," he said. "It's the children who've done it, not us."
Despite lagging behind Oscar frontrunner The Curious Case of Benjamin Button, with 10 nominations to 13 for David Fincher's film, Slumdog Millionaire now looks like the film to beat when the Academy Awards are announced on 22 February. Its hopes were further bolstered on Saturday, when it proved triumphant at the Producers Guild awards. Christian Colson was awarded the Darryl F Zanuck producer of the year gong at the Hollywood Palladium.
Related News
Slumdog Millionaire Movie Wallpapers
Movie Slumdog Millionaire Crew at the 66th Annual Golden Globe Award Picture Gallery
AR RAHMAN FIRST INDIAN TO WIN GOLDEN GLOBE